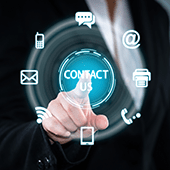 Communications is an integral business component that no enterprise can survive without. At the forefront of modern business, communications are the all-in-one, internet-powered communications solution: unified communications.
What is unified communications?
Unified communications (UC) allows you to manage all your communications as one piece of architecture rather than as several different components patched together. It integrates computer-related communication technologies like instant messaging and video conferencing with Voice over Internet Protocol (VoIP), which allows you to make and receive calls using the internet.
What can we integrate?
Just about every medium of communication can go through integration. This includes voice communication in all its forms. For example, voicemail, email, or fax. As well as, multimedia services like video chat and web conferencing. Real-time communication like call screening and call conferencing are part of it. On top of these, even data services and transactions like eCommerce and online banking can be in a UC system.
What are the benefits of unified communications to small businesses?
One of the most evident benefits is having a single and flexible communication infrastructure that allows you to streamline and enhance business communication and easily manage all the components. For instance, features can be scaled up or down to support your business needs without hassle. Other benefits include:
Hypermobility
UC enables you to access your files via a wide array of smart devices, like laptops, smartphones, tablets, and more. This means you can create your office environment and satisfy customers from anywhere you, please. This opens up a world of opportunity for real-time collaboration and remote work.
Improved productivity
Your employees will be equipped with productivity-enhancing communication features, like call info, call routing, and more, which will enable them to work more efficiently and better tend to customers' needs. Web and video conferencing calls, for instance, not only allow for real-time interactivity, but also for better collaboration. Furthermore, delayed response times and gaps between dispersed teams are also minimized.
Real-time updates
You and your employees will be able to see important presence updates in real-time. This includes the locations of your colleagues and ways to contact them. This way, you can get the right information from the right person when you need it.
Single point of contact
Clearly defined points of contact ensure that stakeholders can reach you by email, phone, SMS, etc. Regardless, they are reaching out to you from a softphone, an IP phone, email, or IM.
Reduced costs
UC eliminates travel costs and lowers phone bills since it uses the internet to make calls. It also limits the need for expensive on-site hardware, as one UC server keeps everyone connected. Even better, you can save thousands of dollars on office overheads by allowing employees to work from home since they'll remain connected.
It's only a matter of time before unified communications become the norm for day-to-day office interactions. If you're interested in learning more about how UC or VoIP can transform your business, just give us a call. All in all, we'll answer your questions and help you devise an integration strategy for your business.
Published with permission from TechAdvisory.org.
Source.