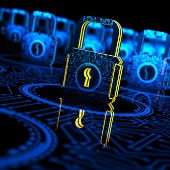 Encouraging staff to work from home is extremely vital in the midst of the COVID-19 outbreak. By minimizing social interactions and contact risks, you can reduce the spread of the virus. But be warned. Transitioning from a managed business environment to a home office can leave you vulnerable to cyberattacks and online scams. Here's what you and your staff must do to mitigate the cybersecurity risks.
mitigate the cybersecurity risks and Fortify user accounts
When everyone is working remotely, user accounts must be properly secured. One way to achieve this is by setting at least 12-character long passwords with numbers and special characters. More importantly, these passwords must be unique to each account to minimize damage if compromised. If you find it difficult to generate and remember login details for all your accounts, consider password managers like LastPass, Dashlane, and Keeper.
To further strengthen your accounts, however, you'll also need to enable multifactor authentication (MFA). This adds another layer of identity verification like fingerprint scans or SMS one-time activation codes. This makes it more difficult for cybercriminals to hijack your accounts.
mitigate the cybersecurity risks by Using a virtual private network (VPN)
VPNs are primarily known for circumventing geographic restrictions on location-specific websites and streaming services. In addition, they're also a crucial tool for remote workers. A reliable VPN creates secure connections between devices and networks by encrypting internet traffic. This hides web activity from prying eyes. It's protecting your employees' online privacy and mitigating the risk of stealing company information.
Patch your software regularly
Although installing software updates can be a nuisance, they cover critical weaknesses and protect your systems. Most apps now offer an automatic update feature so you don't have to manually patch your software.
Another option for your business is patch management software. These track patches on employee devices and distributes the most recent updates on a company-wide scale.
Set up firewalls and antivirus software
Make sure to enable firewalls in your operating systems and hardware. These provide a strong layer of protection between your device and the internet. It  prevents malicious programs and other network threats from reaching your device. Your MSP may also provide third-party firewalls in case your computers don't have any built-in by default.
In addition to firewalls, you'll also want to implement antivirus software. It will detect and remove any malicious programs that do manage to find their way onto your device. Just remember to constantly update the software so it can effectively detect the newest malware.
Secure home routers
Home Wi-Fi routers are not as thoroughly secured as their business counterparts so take extra precautions to safeguard them. For starters, change your router password hackers can access it with just the router model. You should also install the latest firmware updates to eliminate any security vulnerabilities.
Finally, check whether your router has Wi-Fi Protected Access 2 (WPA2) encryption settings to secure inbound and outbound traffic. If your router doesn't have this setting, you're overdue for an upgrade.
mitigate the cybersecurity risks by Backing up your data
Important files must be backed up regularly in the cloud and your external hard drive. This way, you'll always have a copy of your files in case of a major data loss incident.
Watch out for online scams
The biggest threat remote workers face is online scams. Phishing emails may entice you with free coronavirus test kits in exchange for personal information. Some cybercriminals may masquerade as companies, CEOs, or friends to trick you into dangerous links and attachments.
To avoid these threats, you must be critical of everything you see online. Look for any suspicious links and attachments, grammatical errors in the email body, and misspelled email addresses. Plus, never give out sensitive information to an unsolicited email, text message, or phone call.
Working from home poses many cybersecurity challenges for businesses, but you don't have to address them alone. Mitigate the cybersecurity risks to protect yourselves. If you need guidance with setting up firewalls, avoiding scams, and even enabling MFA, we can provide the IT support you need in this difficult time. Call us now.
Published with permission from TechAdvisory.org.
Source.