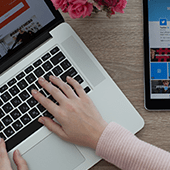 The COVID-19 pandemic and shutdowns contain the spread of the virus brought significant impacts on businesses. Many small companies realized they lacked resources to rapidly adopt a remote work setup. This is where their IT partners stepped in to address technology demands. Here's how managed IT services providers (MSPs) are rising to the challenge for IT support.
Providing infrastructure and service desk capabilities
In today's digital work landscape, MSPs are keeping their noses to the grindstone to keep businesses running. While many small companies have transitioned to remote work, they still need help managing the logistics.
Right now, MSPs are providing customers with IT infrastructures and taking on network tasks. This includes configuring hardware, establishing remote connections, and managing backup and storage options. These help ensure that company networks are reliable enough for a remote workforce.
MSPs are also offering service desk capabilities. They provide companies with a resource for questions, troubleshoot problems, and facilitating solutions. Appropriate and timely support is crucial, especially in times of great uncertainty.
Simplifying cloud adoption
Cloud solutions are ideal if IT environments must be quickly modified to meet changing demands or difficulties. This is why MSPs are now helping businesses leverage a variety of cloud technologies.
And because cloud migration can get complex, many MSPs are offering managed migration plans. That change helps companies transition key workflows and processes to the cloud safely and efficiently.
Offering Remote IT support where possible
The current travel restrictions and social distancing measures make work-related travel difficult and risky. And with highly distributed workforces, many companies would rather source local service technicians several other IT solutions.
MSPs ensure that systems and networks are protected all the time and support is provided within 24 hours. Some providers have technicians in different locations, which in fact, makes it easy to provide resources and support.
Delivering flexible IT support solutions
As business needs continue to shift, MSPs must move in lockstep and provide support wherever they can. Here are some other ways MSPs are helping their clients navigate these trying times:
Assisting with IT projects
It's unfortunately not uncommon for companies to lack the right skills and resources. MSPs are helping them by, surely, providing the expertise to pursue projects, allowing companies to advance. Reliable IT support is key.
Foregoing long-term contracts
Some companies need IT support and services but can't afford to commit to long-term contracts. Similarly, some want to augment their IT only for the duration of the COVID-19 pandemic. Many MSPs are providing flexible IT solutions, providing services and support, surely, right when they need it.
Offering faster response times
Especially now that downtime could likely spell the end of a business, companies seek quick turnaround times. Since MSPs typically offer 24/7 support with a wide range of experience, they can proactively address issues.
Providing better customer service
As many businesses are still adjusting to the new normal, providing positive customer experiences will go a long way. Earn trust and ensure customer loyalty post-crisis. MSPs are showing companies that they're navigating these trying times together.
Call our IT experts today to help configure the perfect remote work setup for your business.
Published with permission from TechAdvisory.org.
Source.