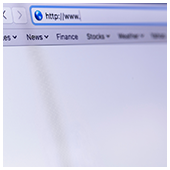 Web browsers are gateways to the internet, which is why you should care about how they transmit and store sensitive information. In an era where too much security is never enough, you need your browser to also have built-in cybersecurity features. But which web browser is the safest? Read on.
Microsoft Edge
Microsoft Edge, Windows 10's current default browser, is an improvement over its predecessor Internet Explorer (IE). Edge is based on the open-source Chromium browser, resulting in an efficient browser that supports Progressive Web Apps and Google Chrome extensions.
Edge's main advantage is that it is Windows 10 should integrate more seamlessly with the Windows OS. It uses Windows Defender SmartScreen to protect users from phishing and malware attacks. And it has a three-level defense against third-party trackers, allowing users to choose between Basic, Balanced, and Strict levels of blocking trackers from collecting personal data and monitoring browsing behavior
Web browser: Safari
Safari is a graphical web browser by Apple for iOS, iPad OS, and macOS. The current iteration is Safari 14, alongside macOS Big Sur, and it's also compatible with Catalina and Mojave.
Safari has long been using a system called Intelligent Tracking Prevention (ITP) that identifies and prohibits trackers from accessing a user's personal data. Also,14's Privacy Report feature shows all the trackers ITP has blocked. Safari also has secure password monitoring, which notifies users if any of their saved passwords in iCloud show up in a data breach. The browser, however, is only available on Apple devices, with full capabilities found only on MacBooks and Macs.
Web browser: Mozilla Firefox
Mozilla Firefox is a free and open-source web browser developed by the Mozilla Foundation. It is widely available across platforms, even on Unix and Unix-like operating systems such as FreeBSD, OpenBSD, illumos, and Solaris Unix.
Because of Firefox's open-source development platform, it can be quite unsecure to use on public computers. For personal and single-user business devices, however, Firefox is relatively safe, especially once all security features are activated and tweaked to your needs. Some key features include a password manager called Firefox Lockwise, a third-party tracker protection system, Private Browsing, and Firefox Monitor.
Mozilla also has a Bug Bounty program, which offers a financial reward to anyone who can identify holes in Firefox code. Mozilla also promises no legal action against anyone who complies in good faith under its Bug Bounty program.
Web browser: Google Chrome
Google Chrome is a cross-platform web browser by Google. It is the default browser for Google's line of laptops and third-party Chromebooks. Chrome utilizes a process allocation model to sandbox tabs. Sandboxing is a security mechanism for separating running programs to keep software vulnerabilities from spreading.
Chrome also regularly updates two sets of blacklists, one for phishing and one for malware. It also touts site isolation and predictive phishing protection features that receive updates every six weeks and within 24 hours of a threat discovery.
Being aware of how your web browser stacks up against the competition is only half the battle. Ransomware like WannaCry can spread to uninfected systems through a gap in the Windows security framework. Most other malware infections prey on human error. What your business needs are a comprehensive security audit. For more information, call us today.
Published with permission from TechAdvisory.org.
Source.