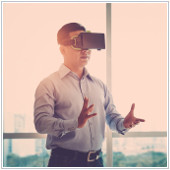 Virtual reality (VR) has many benefits. Its immersive sensory experience is being applied in healthcare, gaming and entertainment, fashion, the military, and the media, just to name a few. Small- and mid-sized businesses are no exception, as this technology is changing how they normally do business in wonderful ways.
Create your own VR prototypes
With the help of VR, you'll no longer have to rely on manufacturing when you want to see what your product physically looks. These virtual products allow you to make any changes before production. Model creation in VR, for example, can save company resources. As well as virtual prototypes allow manufacturers to examine a product and make changes.
VR for engineers
As with manufacturing, VR is also time and cost-efficient. Engineers, architects, and other professionals benefit from it. It replaces traditional approaches and offers a more immersive experience.
Virtual tours
Let's say that you're a real estate agent showing houses to potential buyers. Your buyers may be in a different state or simply don't want to spend time going from house to house. VR allows customers to see what the property looks like in a three-dimensional setting.
Showing all the angles of a product
In order to entice buyers into making a purchase, you must first give them an idea. They need to see as many angles as possible. Customers see your product from all angles without touching it. Furthermore, it allows customers to see a product in action. Shoppers can thoroughly examine a product before purchasing it.
Take customers on an adventure
If you are into tourism or adventure-based business, you can give customers a taste of the attractions. Imagine that you have an amusement park, and you want to attract customer attention. If you own a resort or campground, you'll also be able to create VR versions of whatever activities you offer.
VR has the potential to take your small- and mid-sized business to the next level. If you have any questions about how you can mesh it with your company, don't hesitate to send us an email or give us a call. We'll be more than happy to assist you.
Published with permission from TechAdvisory.org.
Source.