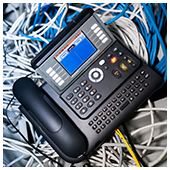 Denial-of-service (DoS) attacks are nothing new. But most businesses have no idea how to prevent this type of attack on their VoIP system. If you're one of those businesses, we have everything you need to know right here.
DoS: Denial-of-service attacks
The end goal of any DoS attack is to overwhelm a system with that system enough to shut down. Telephony DoS (TDoS) attack is a subcategory of VoIP systems. Alarmingly, this attack is commonly on hospitals and 911 phone lines. Much like ransomware, some TDoS attackers even demand a ransom to halt the attack. They take advantage of cryptocurrencies and caller-ID spoofing to make it incredibly difficult to identify attackers.
TDoS attacks employ fewer resources than the DoS attacks that cripple IT systems. For instance, the networks, servers, and software. At its most basic, all that a TDoS attack requires is an automated phone dialer that calls a target phone number and hangs up — over and over. That very simple strategy can stop anyone else from getting through the line.
What organizations need to do
Locking down your VoIP system with complicated and unnecessary security measures will do more harm than good. For instance, most businesses can't operate if they can't communicate with their customers.
Although VoIP may be a digital resource similar to other IT systems, the very nature of phone lines makes it impossible to hide them. However, there are new solutions that offer protection to VoIP systems. There are now new security protocols that can protect your communication infrastructure against those who try to use force to gain access to your directory information. These protocols can also identify, reroute, and filter calls coming from known attackers.
If you're experiencing any abnormalities with your VoIP system, our expert staff is ready to help you at the drop of a hat — just call today.
Published with permission from TechAdvisory.org.
Source.