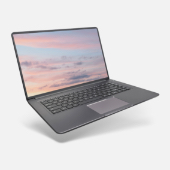 If you recently started working from home, you realized it isn't as easy as you thought. You have to set up your home office and manage your time efficiently. A slow and outdated laptop should be the least of your worries. If you're thinking of buying a new one. We provided a breakdown of the best laptops in the market for you.
What to consider for the best laptops
Size – When it comes to your laptop weapon of choice, size matters. Of course, this depends on what you'll be doing with it. If you're a graphic designer, you might want to have a bigger display. However, if your work mostly entails writing, blogging, or doing reports, you probably need a standard-sized (11.6- to 15.6-inch) laptop.
Screen quality – For work, comfort is the main factor when it comes to screen quality since you'll most probably be in front of your screen hours at a time. Fortunately, most laptops these days have full HD displays. Consider a 1920x1080-pixel resolution if you like to keep things in view.
Keyboard quality – The quality and functionality of a keyboard drive productivity. If type for long hours, you'll want a comfortable keyboard layout. Make sure the keys have adequate travel on the downstroke and quick responsiveness when you type.
Also keep in mind
CPU – By any given standards, Intel Core Processor offers the best performance, especially when it comes to multitasking and multimedia tasks. Core i3 laptops are generally in budget systems, while Core i5 makes up the majority of mainstream business computers. If you want top-of-the-line performance, a Core i7 or even Core i9 CPU is ideal for you.
RAM – More RAM allows for more applications to run simultaneously, and for data to be quickly accessible by the system anytime. Nowadays, 8 GB is the suggestion for most users. But if you're dealing with many applications and assets at any given time, consider 16 GB and above.
Storage – We recommend a solid-state drive (SSD), as it offers a lot more speed than a hard disk drive when it comes to boot your system and loading programs. It also runs silently and without adding too much weight and bulk to the laptop.
Battery life – You might have to charge the whole day since you're working from home, but in the long run, it's better to factor in the battery life of your laptop. Note that there are many variables that affect battery life. Such as screen resolution, brightness, and the number of applications running. Look at the rating of the battery in watt-hours (Wh) or milliampere hours (mAh). The larger these digits are, the longer the battery can last.
Here are a couple of recommendations to get you up and running:
Chromebooks
Chromebooks are budget-friendly laptops that guarantee long battery lives and fast processors. They're lightweight and compact, which is perfect for those times you need to move around. In addition, Chromebook laptops usually have quiet and ergonomic keyboards. With its built-in Chrome OS, you can expect a faster and more secure laptop that will keep you working efficiently.
2-in-1 the best laptops
Lightweight laptops with a tablet touch screen allow for unparalleled flexibility and mobility. Most 2-in-1s also have HD displays backed by high-speed processors and integrated graphics to enhance your video conferencing experience. What's more, they usually have a stylus, making them perfect for note-taking, photo editing, and other creative tasks.
Microsoft Surface laptop
Microsoft Surface laptops are one of top performers in the premium laptop market, as they offer great balance and portability. They handle general computing superbly with no slowdown and noise, even \with plenty of tabs open. Other great integrations include an excellent keyboard and trackpad and an ideal screen ratio that's perfect for productivity tasks.
Apple MacBook Pro
MacBook Pro laptops are known for their safe and secure operating system, MacOS. They're also popular for their powerful hardware that can run graphically intensive tasks. Plus, they can run other operating systems like Windows, UNIX, and Linux. If you need to do video editing, you can definitely take advantage of Mac-exclusive software like Final Cut Pro.
One of the most remarkable features that Apple MacBook Pro laptops boast of is the switch from the former butterfly-like keyboard. The new keys offer better travel and they also feel soft and clicky. If you're after a good blend of portability and performance, a MacBook Pro is your best bet.
Any laptop is an investment, so you should know what to look for and what to consider. While it's tempting to get all the great features, it's still more important to have a laptop that's reliable. Especially when you can't afford to deal with hardware issues while working from home. Call us today to learn more.
Published with permission from TechAdvisory.org.
Source.